2019 Beauchamp Fitness
---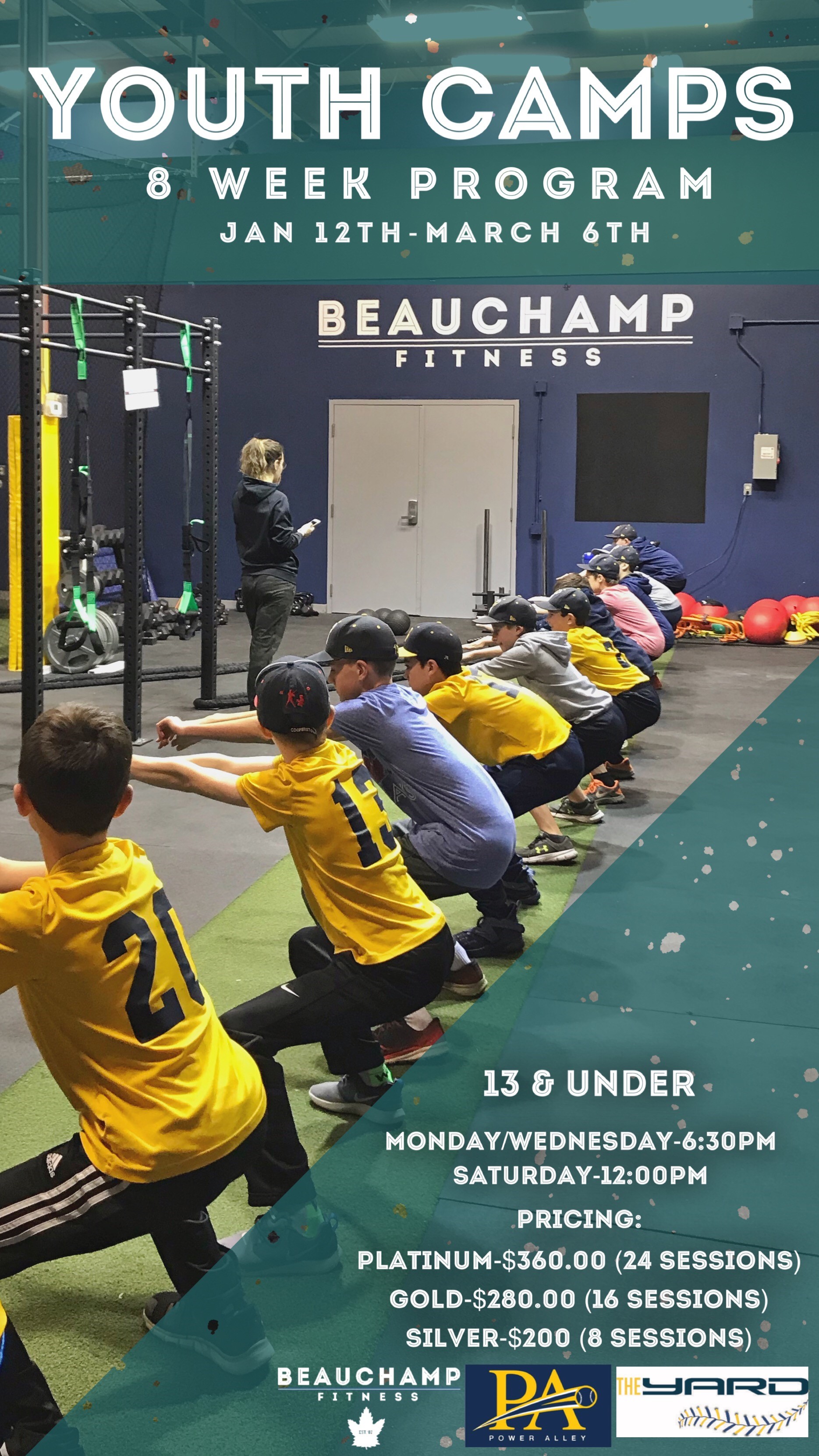 Beauchamp Fitness Youth Strength and Conditioning Camps.
8 Week Program
January 12th - March 6th.
Beauchamp fitness Youth Camps are a series of fun fast paced & high energy 60-minute training sessions focusing on developing the youth of today for the challenges of tomorrow. Youth Groups are open to both male and female children between the ages of 7-13 years old. Our program focuses on teaching our youth & teens the fundamentals of fitness, health and wellness through education of proper exercise technique, proper hydration & nutrition for the young athlete. Our program is designed to improve the young athlete's coordination, speed, agility, strength and confidence in a variety of exercise protocols, which will not only better prepare the young athlete for sport but will also prevent injuries now and in the future. Our program focuses on teaching the fundamentals of exercise and movement in a fun and high energy atmosphere that helps build and promote self-confidence, team work and mindset! Plus, your kids will sleep better, feel better and have improved energy and focus!
Our program focuses on:
Fundamentals of exercise & movement.
3D movement patterns.
Proper Biomechanics & muscular activation/firing patterns.
Mobility, Flexibility & Functional Range of motion.
Foundational Strength, Power & Explosiveness.
Speed, Agility and conditioning.
Core strength & hip stability.
Postural/Rotator cuff strength & stability.
Proper hydration & nutrition.
Pricing:
Platinum - 24 sessions @ $15/session = $360 + HST
Gold - 16 sessions @ $17.50/session = $280 + HST
Silver - 8 sessions @ $25/session = $200 + HST
Dates and Times:
Saturdays (12:00pm - 1:00pm)
January (12th, 19th, 26th), February (2nd, 9th, 16th, 23rd), March (2nd)
Mondays and Wednesdays (6:30pm - 7:30pm)
January (14th, 16th, 21st, 23rd, 28th, 30th), February (4th, 6th, 11th, 13th, 20th, 25th, 27th), March (4th, 6th)
If you are ready to register, click here.
Location:
All winter youth camps will be run at Beauchamp Fitness, located at 760 Brant Street, Unit 47, Burlington, ON L7S 1X7 (click here for map)
For more information please contact Riley Beauchamp at rileymbeauchamp@gmail.com