Bulls FAQ
---
Is your child interested in trying out for Select or REP Baseball in 2021? If so, please read below. We hope this information will help you decide if Rep/Select is right for your player and family.
Burlington Bulls Rep/Select program
16 weeks (approx. 40 hours) of Winter training instruction led by Power Alley baseball
Access to the Yard for team practices and after-school drop ins
20-26 league games against other COBA (Central Ontario Baseball Organization) teams
Weekly team practices May to August
Average of 3 tournaments, plus playoffs and provincial championship
Practice gear, full game uniform including home/away jerseys **Bulls Branded Bags/Helmets/Sweaters & extra training gear can be purchased at an extra cost**


Tryouts:
Tryouts will start the week after Labour Day and continue through the month of September.
The initial tryout sessions will be run by Power Alley baseball and will take place at The Yard. Results will be given to the Head Coaches in each age group and players will be invited to continue to try out or will be informed that they will not be continuing with the tryouts. Depending on the age group, there will be 1 or more tryouts outside at diamonds. The Head Coach of the AAA team will select his/her players, followed by the Head Coach of the AA team and then the Head Coach of the A team. If there is a Select team, it is a combined age group and player decisions are discussed with the coaches in both age groups. There may be additional tryouts after each tier of team is selected.
All roster selections are approved by the Rep committee prior to offers to players.
League Games:
Rep and Select teams average 2 games per week totaling 20-26 games per season.
Tournaments:
Rep teams average between 3-6 weekend tournaments per season plus league play downs (mid to late August). If you are fortunate enough to make it to the Provincials, count on another full weekend of baseball (Labour Day). Teams usually book the tournaments from January to April so you will have plenty of notice.
Practices during the playing season:
Rep and Select teams average 2 to 4 hours of practice per week. This will depend on the coach and practice time usually increases when preparing for tournaments.

Level of Commitment:
The above are minimum levels of commitment. As this is a rep sport there is an expectation of commitment to both off season and in season training & development. Please consult your coach about the time commitment and expectations.
Can I play another sport during the summer?
By accepting a spot on a Rep/Select baseball team, you are making a commitment to that team for the season. It is VERY difficult to juggle another summer sport (especially another Rep sport) and your child will miss games and practices for baseball or the other sport. This is unfair to your teammates and should be considered prior to accepting a spot on a Rep/Select baseball team.
Will the games be on certain nights/when will I know the game schedule?
Your home games in Burlington are usually the same night of the week. Your away games will be any other weeknight. This means the games can be any night from Monday to Thursday. Burlington does not create the game schedule, it is done by COBA (Central Ontario Baseball Association) and is not ready until mid to late April.
Can we take a vacation?
Of course! However, coaches prefer that you give them lots of notice so that they can arrange for call-ups if they are short players. It is also preferable to have all players available for tournaments.
Minor Peewees (12U/2009):
We plan to have 3 Minor Peewee teams going to Cooperstown, NY for a week long baseball tournament. Because of this special tournament, the team cost for the year per player averages $2,500 to $3,000. Fundraising is key for this year and practices are more frequent in preparation for this unique experience for the Minor Peewees. If you are selected for a Rep Minor Peewee team, you must attend the Cooperstown tournament.
Playing Time:
Our coaches are instructed to focus on player development as well as fielding competitive teams. Although playing time is not guaranteed at the Rep/Select level, BOMBA is committed to "fair, not equal, play" during regular season games. Players are encouraged to learn the value of being a part of a team, including the value of contributing off the playing field.
Fees for the "season" (January to August):
The 2020 fees for Rep were between $1,085 and $1,305 per player. This includes the facility fee (rent), uniform, park/diamond costs, umpire fees and administrative fees.
The season starts in January when the teams begin winter training/practicing.
You'll notice that the fees for getting on the diamonds - practicing and playing games, comprise a small part of the overall fees.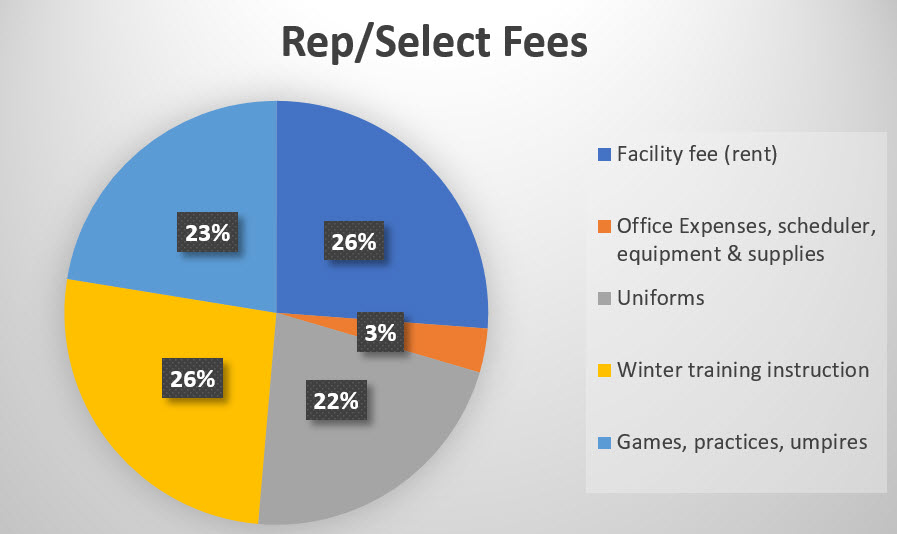 A deposit is required in September/October when the teams are formed. The remainder of the fees may be made by credit card installments, e-transfer or cheque. If you are not paying by credit card installments, payment in full will be required by January 1, 2021.
If your player voluntarily leaves the team after the first week of January (when winter training begins) only the portion for game, practices and umpires will be refunded. If your player needs to leave the team or is unable to participate for a period of time due to injury/medical reason, the applicable fees will be pro-rated.
8U to 15U - Minor Rookie Ball to Major Bantam payment schedule is as follows:
September/October deposit: $400
December 1st: Half the remaining fees
February 1st: Balance of fees (will vary per age group)
Once winter training commences the first week of January , $900 is non-refundable.
16U to 18U - Minor and Major Midget payment schedule is as follows:
September/October deposit: $400
December 1st: Half the remaining fees
February 1st: Balance of fees
Once winter practices commence the first week of January, $650 is non-refundable.

Team fees:
Teams have additional fees to cover tournaments, extra training and team equipment costs. Each team will determine a budget once the team is selected. These team fees are in addition to Registration fees . Team fees could range from $300 to $600 per player except for the Minor PeeWee 12Us going to Cooperstown (see above).
Winter Training:
Select and Rep teams have indoor winter training from January to end of April of the playing year. While we are still determining the format of the Winter training program for 2021, last year each team was assigned 2 sessions, totaling 2.5 hours. . All players/teams must participate but we understand that it may not be possible to attend all sessions based due to other commitments.
Fundraising:
Due to the increased fees associated with tournaments, training facilities, and training equipment, there is an expectation of team fundraising activities by the parents & players.
Out of town players:
If you are not a Burlington resident and have not provided your release to BOMBA prior to the first tryout, your player will not be permitted to participate. The office is open Wednesday evenings (6:30 pm - 8:30 pm) and Saturdays (9:00 am - 12:00 pm). Please click here for our residency policy.
Please note that COBA has updated the release rules in 2020 for Major Bantam to Major Midget players. Players can try out for any COBA team without a release. Once an offer is made, a release must be provided (and cannot be denied) by the player's home association.